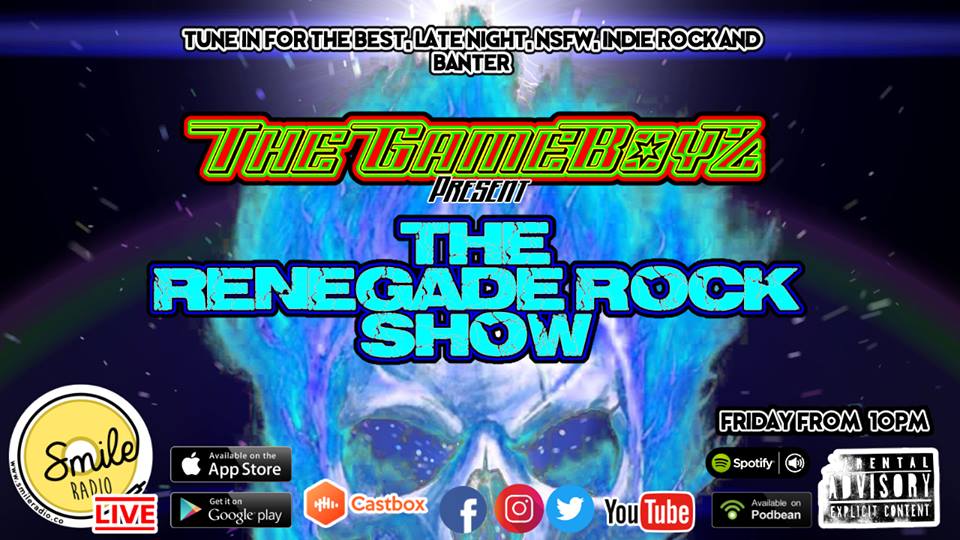 Tune in every Friday night from 10pm for "The GameboyZ of Smile Radio & The Renegade Rock Hours" bringing a mix of banter and fresh, new, hot, rock music from independent artists from around the world!
On this show:
Ritchie J and Jonno are joined by other fellow GameboyZ co-host James Herrington, the guys chat about - The 22 Ways Sex can and has gone wrong (Be warned, it's not for the feint)
Plus some great uncensored, new music from Alter Bridge, The Barratts, As December Falls, Corella, Within the Willows, Papa Roach, Falling through April, Dead Letter Box, Trapt, Right on Kid!, Metallica, Rev Theory, Coming Clean, Sinaro, Dark New Day, Dead lights & Breaking Benjamin!
🤘😍😎🤘
Hosted by: Jonathan Edwards, James Herrington & Ritchie J
Rock out every Friday with our Late Night Line up on Smile Radio Home of the best, Independent, Alternative, Rock, New Music, Late Night Banter & Entertainment!
If you like the show, don't forget to check out our great custom designed, in house merchandise: https://the-gameboyz.myshopify.com/?key=0218d60e16a8bab4d11462e97027f0477eca17cab0a478bf16659033af34dea2
Social Media:
Facebook:
www.facebook.com/smileradioyorkshire
www.facebook.com/thegameboyZofSmile
Twitter:
 Instagram:
 Submit Your Music: 
ritchie.johnston@smileradio.co