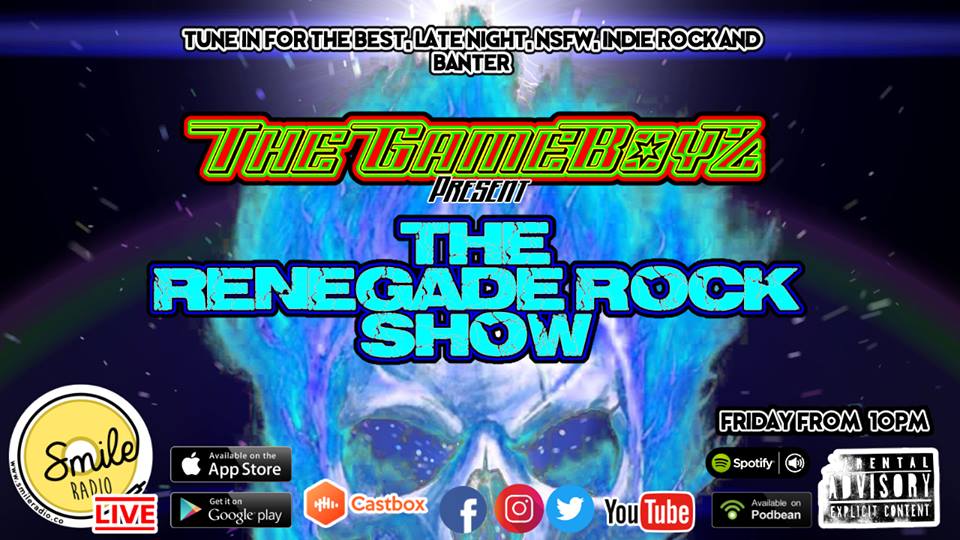 Tune in every Friday night from 10pm for "The GameboyZ of Smile Radio & The Renegade Rock Hours" bringing a mix of banter and fresh, new, hot, rock music from independent artists from around the world!
On this show:
The BoyZ are back in town with Some more of those NSFW facts and music from:
Smile Radio #FeaturedArtists: Dig Lazarus Hazy Days (Who are playing in #Leeds tonight at 360 Club check them out if you're out and about)
Find out about the Featured Artists: 
 www.smileradio.co/featuredartists
Plus music from: The Dickies The Darts - US Trapdoor Social Hollywood Vampires Callow Youth The Ruby Tuesdays
AND the usual #UnscriptedLive banter from the lads Jonathan EdwardsJames Herrington Ryin Leeder & Ritchie Stonian Johnston!
🤘😍😎🤘
BE WARNED - IT'S NOT FOR THE TAME!
 Hosted by: Jonathan Edwards, James Herrington, Ryin Leeder & Ritchie J
Rock out every Friday with our Late Night Line up on Smile Radio Home of the best, Independent, Alternative, Rock, New Music, Late Night Banter & Entertainment!
If you like the show, don't forget to check out our great custom designed, in house merchandise: https://bit.ly/2W7tG4k
Social Media:
Facebook:
www.facebook.com/smileradioyorkshire
www.facebook.com/thegameboyZofSmile
Twitter:
 Instagram:
www.instagram.com/GameboyZofSmile
 Submit Your Music: 
ritchie.johnston@smileradio.co