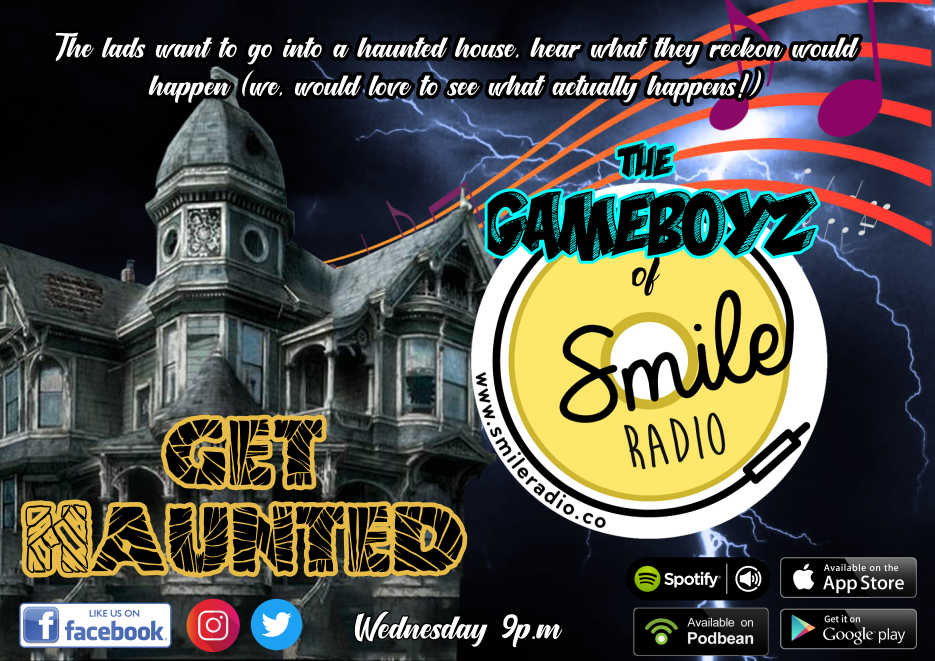 Last week they were LOST this week, they are getting Haunted "The GameboyZ of Smile Radio"  are back tonight playing the Scenario game and playing the Alt Rock Music that you should be listening to Live on air every Wednesday Night: www.smileradio.co
On this Show:
The GameboyZ are back and discussing how they would act (or how they like to think, they'd act) in certain scenarios from Pop Culture and Movies, with some really interesting results!
This week the Lads tackle a haunted house Scenario, something we've been interested in doing a documentary in as skeptics with some "experts" and technology thrown in.
Would they change their perspective when we explain equipment or will they remain skeptical? Find out in this 1hr30 min slice of unscripted, humor and music from the best undiscovered, alternative, Late night, rock scene!
Hosted by: Jonathan Edwards (mouth like a sailor), James Herrington (face like a 14 year old) & Ritchie Johnston (obviously just pure awesome)
On The Playlist:
Music from this show comes from:
WARBLY JETS The Seamonsters The Lottery Winners The Vanities BABY STRANGE Voodoos The Dunts Rascalton & SNASH
And.
Jonny's Review: Jonny takes on Anthem and the various issues that's come with a demo of a soon to be released game!
The GameboyZ - you can take away Game from the Gamer but you cant take the Gamer out of the Game!
Catch up on what happened when the GameboyZ....
Went to Jail: 
 https://open.spotify.com/episode/3ERfJYkeLz1Kl02I532N6H…
Got Lost:
Part One: 
 https://open.spotify.com/episode/0pxpvhfFqmZqp5A5362krG…
Part Two: 
 https://open.spotify.com/episode/3pHVUcNKWHwR9vJXT0jyZY…
#WednesdayNight #LateNightRadio #Uncensored #Entertainment #Debate#Scenario #Discussion #RockMusic #IndieWednesday #Comedy#OnlineRadio #Podcast